May 04, 2020
Covered California Launches New Ad Campaign That Focuses on the COVID-19 Pandemic and Encourages the Uninsured to Sign Up for Coverage
Tweet This
---
"We will get through this together, and whether you have lost your job or suffered a loss of income due to the pandemic, Covered California is here for you."
"Covered California can help you find the health insurance you need to protect yourself and your loved ones, and most of those signing up get financial help to pay for coverage."
"Californians are supporting those on the front lines and changing their lives to limit the spread of COVID-19. These ads tell the story of what is happening in every community across that state — friends and family finding new ways to reach out and stay connected."
---
The new ads feature real-life neighbors and friends, instead of actors, who are staying at home to remain safe and protect their community.
Covered California is currently holding a special-enrollment period that allows anyone who is uninsured, and eligible to enroll in health care coverage through the exchange, to sign up through the end of June.
Consumers can enroll in as few as 30 minutes, either through CoveredCA.com or over the phone with the help of one of Covered California's thousands of Certified Insurance Agents or enrollers.
In addition, Medi-Cal enrollment is open year-round for consumers who qualify.
---
SACRAMENTO, Calif. — Covered California launched a new ad campaign on Monday that focuses on the COVID-19 pandemic and encourages people without health insurance to sign up for coverage during the current special-enrollment period. The ads, which were filmed and produced during California's efforts to stay at home, feature real-life neighbors and friends who are keeping their communities safe by social distancing.
"We will get through this together, and whether you have lost your job or suffered a loss of income due to the pandemic, Covered California is here for you," said Covered California Executive Director Peter V. Lee. "Covered California can help you find the health insurance you need to protect yourself and your loved ones, and most of those signing up get financial help to pay for coverage."
The ads are 15 seconds and 30 seconds long and were created by Maximize Video Productions, a San Francisco Bay Area creative agency, just as Californians began staying home to reduce the spread of COVID-19. The message is also available in Spanish in 15 second and 30 second ads. Since the company could no longer bring actors and a crew together, it figured out a safe way to capture what we are all experiencing.
"We saw how neighbors were concerned about their health and using things like video chats and window visits to stay connected and protected," said Max Fancher, the owner of Maximize Video Productions. "We figured out how to safely film people staying at home, staying healthy and safe so we could inform everyone about their health care options during this crisis." 
Fancher reached out to his neighbors and friends who live in Oakland, Berkeley and nearby cities to share his idea of how they could film the ads while keeping a safe distance. He drove across the East Bay and filmed them from outside their homes, while providing instructions and guidance over the phone.
"These commercials put a human face on the resilience and sense of community that we're seeing across California," Lee said. "Californians are supporting those on the front lines and changing their lives to limit the spread of COVID-19. These ads tell the story of what is happening in every community across that state — friends and family finding new ways to reach out and stay connected." 
Several people connected to the ad have either benefitted from quality health insurance coverage provided through Covered California or Medi-Cal. Maurice Ramirez is a self-employed photographer who lives in Alameda and appears in the ad with his wife and son (right). He says he could not imagine raising his family without the protection of a health insurance plan.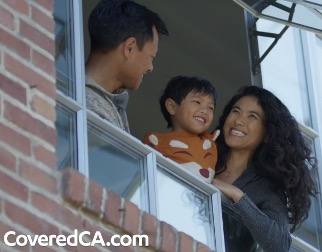 "It's such a huge relief to know that we will not be going bankrupt if some kind of health problem comes up for our family," Ramirez said. "It's a big weight off my shoulders, and one less thing to worry about, knowing that we have health insurance."
Ralna Ramse worked to help Maximize Video Productions arrange and set up the filming. She requires regular medication to keep her asthma under control.
"It is comforting to know that, because of Covered California, I will get the care I need at a price I can afford," she said. "Covered California is on your side and will help you find a plan that is right for you."
Another member of the production team, video editor Eric Wahlstrom, also benefits from coverage through Covered California. He says it is critically important right now to make sure people understand their health care options.
"Everyone should know that if they lose their health insurance coverage, or they are not making as much money as they did before, that there is help out there for them," Wahlstrom said. "There's no reason not to go to Covered California and find out what options are available to you."
Signing Up for Health Care Coverage
The ads highlight Covered California's current special-enrollment period, which allows any eligible individual who needs health insurance amid the COVID-19 emergency to sign up for coverage. Covered California's eligibility requirements are similar to those in place during the annual open-enrollment period, and consumers can sign up for coverage through June 30.
Consumers can visit CoveredCA.com and find out if they are eligible for Covered California or Medi-Cal, and see which plans are available in their area, by using the Shop and Compare Tool and entering their ZIP code, household income and the ages of those who need coverage. People who sign up through Covered California will have their coverage begin on the first day of the following month. Also, when applying, those found eligible for Medi-Cal can have coverage that is effective retroactively to the first day of the month from when they submitted their application.
In addition to enrolling online, consumers who need health care coverage can visit Covered California's Find Help page to get assistance over the phone from one of Covered California's thousands of Certified Insurance Agents. Help on Demand allows consumers to get a call back from a certified enroller.
Those interested in learning more about their coverage options can also call Covered California at (800) 300-1506.
About Covered California
Covered California is the state's health insurance marketplace, where Californians can find affordable, high-quality insurance from top insurance companies. Covered California is the only place where individuals who qualify can get financial assistance on a sliding scale to reduce premium costs. Consumers can then compare health insurance plans and choose the plan that works best for their health needs and budget. Depending on their income, some consumers may qualify for the low-cost or no-cost Medi-Cal program.
Covered California is an independent part of the state government whose job is to make the health insurance marketplace work for California's consumers. It is overseen by a five-member board appointed by the governor and the Legislature. For more information about Covered California, please visit www.CoveredCA.com.