May 07, 2019
New Analysis Finds Record Number of Renewals for Leading State-Based Marketplaces, but Lack of Penalty Is Putting Consumers at Risk
Tweet This
---
"The penalty matters: It is the nudge that gets new enrollees in the door. Once people sign up for quality health coverage, they are more likely to stick with it, and that leads to better health outcomes and lower premiums."
"The fact is that consumers in much of the nation are paying higher premiums right now because of the decision to zero out the penalty."
---
The analysis finds that even in states where there is no penalty, more consumers than ever before are keeping their coverage.
The high rate of paid renewals is evidence that once insured, consumers keep their coverage even without the "nudge" of the penalty.
However, the lack of an individual mandate penalty continues to put consumers at risk by lowering levels of new enrollment, which is leading to higher premiums that could force some people — particularly those who are unsubsidized — to lose their coverage.
---
SACRAMENTO, CA — A new analysis reveals that more renewing consumers than ever before are keeping their health insurance in three of the leading state-based exchanges. The analysis provides the first complete picture of the impact of the removal of the federal penalty on the individual insurance market. Earlier data detailed the large drop in new enrollment in many marketplaces that was likely caused by the removal of the penalty, but this analysis finds that consumers are very likely to keep their coverage once they are insured.   
"For the first time, we are getting a look at the impact of changes at the federal level, and the early news shows that once people get coverage, they want to keep it," said Covered California Executive Director Peter V. Lee. 
"However, we remain extremely concerned that the removal of the individual mandate penalty is leading some Californians to roll the dice and stay uninsured, leading to higher than necessary premiums that could ultimately price them out of coverage — particularly for middle-class customers who do not receive financial help."
Effectuation Rates of Renewing Consumers
The analysis, which was produced by Covered California, the Massachusetts Health Connector and the Washington Health Benefit Exchange, found that instead of seeing a decline in consumers keeping their coverage with the removal of the penalty, an increasing number of existing consumers are staying enrolled in their health plan. The effectuation rate for renewing members reached its highest level for each of the three states: Covered California, with 89 percent of actively enrolled consumers in December of 2018 renewing and paying for their coverage in January 2019 compared to 86.5 percent in 2018; in Massachusetts, the renewal rate for the same period went from 87 percent in 2018 to 91 percent in 2019; and it went from 79 to 88 percent in Washington (see Table 1: Effectuation Rates for Renewing Consumers).
Table 1: Effectuation Rates for Renewing Consumers*

*Data refers to renewing consumers only. Total effectuation, including new enrollment, will be available in the summer.
"Having health insurance matters, and once people sign up and get protection, benefits and peace of mind, they tend to stay covered," said Louis Gutierrez, executive director of the Massachusetts Health Connector. He added, "This information reinforces the lesson from our state that building a culture of coverage means that all consumers are the winners, with lower premiums and our state is reaching close to universal coverage."
Covered California's data shows that the renewal effectuation rates are relatively stable and consistent across different groups and statuses, taking into account subsidy eligibility, age, metal tier, service channel used, race, ethnicity and language.
State exchange officials say there could be several reasons for the increase in renewal rates but note the issue needs to be studied more closely. These reasons include effective marketing, patient-centered plan designs that provide key benefits that are not subject to a deductible, and the year-over-year stability of the state marketplaces.
"What we do know is that this data is good news, because a higher renewal rate will help the risk mix in these states in the face of the penalty removal's effect on new enrollment," Lee said.
Lack of Penalty Hurts New Enrollment
While the states reported strong renewal totals, the federal decision to zero out the individual mandate penalty had a chilling effect on new consumers signing up for the 2019 coverage year. New enrollment in states operating in the federally facilitated marketplace (FFM) dropped 16 percent, on top of the already large drop of 40 percent in the prior two years. California and Washington also experienced steep declines in the number of new enrollees signing up for coverage. However, Massachusetts — which kept a state-level mandate penalty as well as other state policies, such as state-level affordability assistance — saw new enrollment increase by 31 percent (see Figure 1: New Enrollment Growth by Marketplace, Comparing 2018 to 2019).
Figure 1: New Enrollment Growth by Marketplace, Comparing 2018 to 2019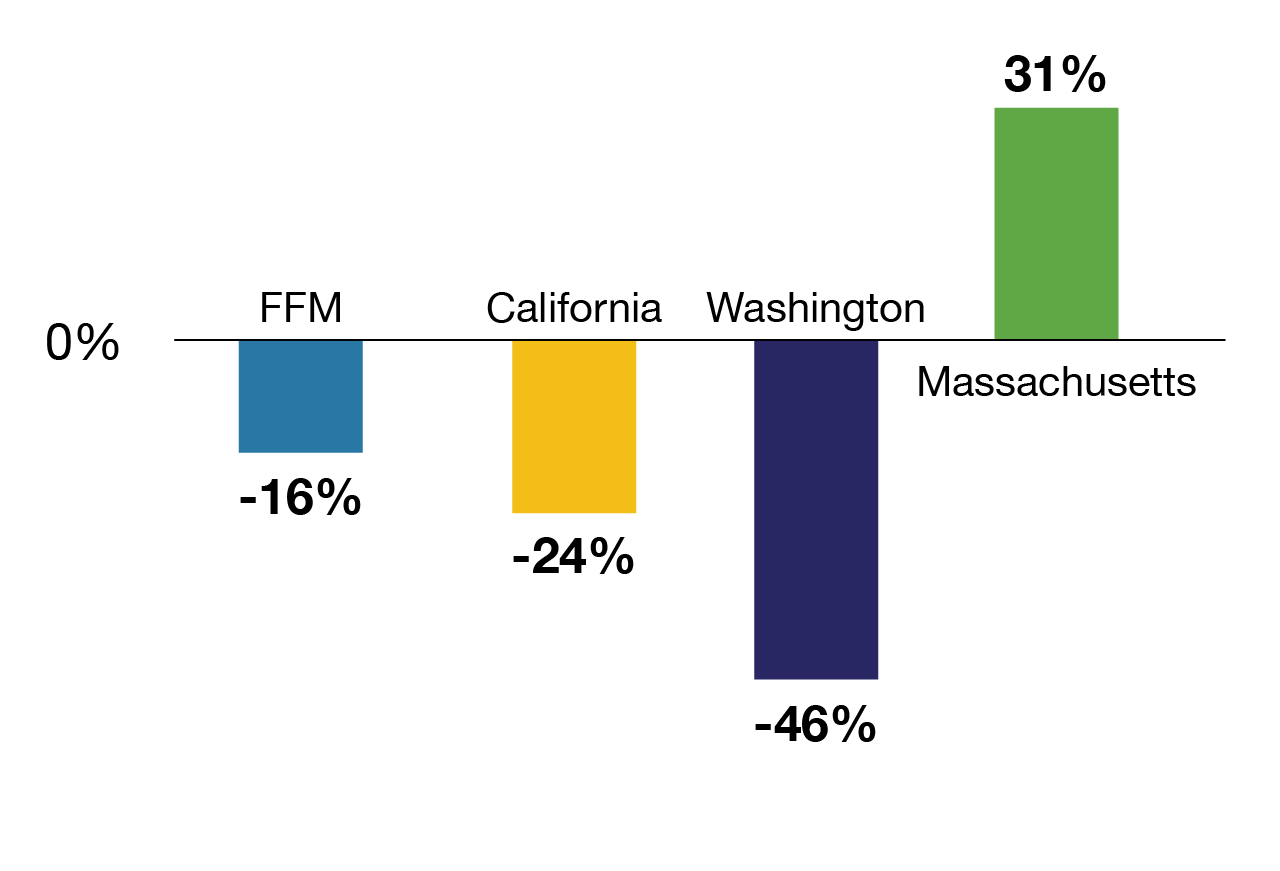 "The penalty matters: It is the nudge that gets new enrollees in the door," said Pam MacEwan, chief executive officer of the Washington Health Benefit Exchange. "Once people sign up for quality health coverage, they are more likely to stick with it, and that leads to better health outcomes and lower premiums."
Lack of Penalty Raises Premiums
While the exchanges remain stable, the lack of a penalty is continuing to cost consumers and put them at risk of losing their coverage. Lee noted that the federal decision to eliminate the penalty raised the premiums of health plans through Covered California between 2.5 and 6 percentage points in 2019.
"The fact is that consumers in much of the nation are paying higher premiums right now because of the decision to zero out the penalty," Lee said. "While the Affordable Care Act's financial help will offset those higher premiums for many, middle-class consumers who do not receive assistance will be more at risk of being priced out of coverage." 
"Enrolling more people means a healthier risk pool, which lowers premiums and saves money for everyone in the individual market," MacEwan said. "In the absence of a penalty, we will need policy solutions to address the drop in new enrollment."
An earlier analysis examined the cost of coverage by comparing the average benchmark premium in three states and the FFM between 2014 and 2019. The weighted average increase in California, Massachusetts and Washington was 39 percent, compared to the 85 percent increase in FFM states (see Figure 2: Average Benchmark Premium Growth by Percentage, Compared to 2014).
Figure 2:  Average Benchmark Premium Growth by Percentage, Compared to 2014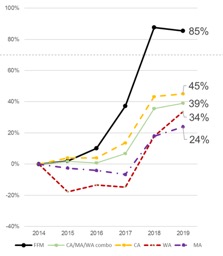 In addition, the data found that if the FFM states had experienced the same lower premium growth seen in the three states, the federal government could have saved roughly $35 billion through lower subsidy payments between 2014 and 2018. 
While the analysis did not quantify the increased costs paid by unsubsidized consumers in FFM states, they would have saved substantially and been less likely to have been priced out of coverage. 
Massachusetts officials credit the individual mandate, along with additional state subsidies, for helping the state achieve the lowest uninsured rate in the nation and for a record number of consumers signing up for coverage through their exchange. In addition, the state says the Health Connector had the lowest rates of any exchange in the country in 2018 and an average rate change of just 4.7 percent for the 2019 coverage year. 
This analysis measures the effectuation rate of consumers who had coverage in the prior December and paid for their first month's premium in the new year. There is no comparative federal data that describes the actual number of those eligible to renew who paid their bill. Previously released data from the Centers for Medicaid and Medicare Services does not take into account which consumers either paid for their new year's premiums, or in some cases, had a change of coverage before the 2019 coverage year began.
About Covered California
Covered California is the state's health insurance marketplace, where Californians can find affordable, high-quality insurance from top insurance companies. Covered California is the only place where individuals who qualify can get financial assistance on a sliding scale to reduce premium costs. Consumers can then compare health insurance plans and choose the plan that works best for their health needs and budget. Depending on their income, some consumers may qualify for the low-cost or no-cost Medi-Cal program.
Covered California is an independent part of the state government whose job is to make the health insurance marketplace work for California's consumers. It is overseen by a five-member board appointed by the governor and the Legislature. For more information about Covered California, please visit www.CoveredCA.com.
Covered California can be contacted at media@covered.ca.gov or (916) 206-7777.
About the Massachusetts Health Connector
The Massachusetts Health Connector is the Commonwealth's health insurance exchange. It currently provides health or dental insurance to more than 300,000 people. Individuals and small businesses can search for and purchase high-quality commercial coverage while reaping the health and financial benefits of being covered. Individuals and small businesses can find health insurance options at www.MAhealthconnector.com.
For information on the Massachusetts Health Connector, contact Jason Lefferts, director of Communications and Media Relations, at (617) 933-3141.
About theWashington Health Benefit Exchange
The Washington Health Benefit Exchange, or Washington Healthplanfinder, is an online
(more)
marketplace for individuals and families in Washington to compare and enroll in health insurance coverage and gain access to tax credits, reduced cost-sharing and public programs such as Medicaid. The next open-enrollment period in Washington begins on Nov. 1.
The Washington Health Benefit Exchange can be reached at ben.spradling@wahbexchange.org.