Many Californians now qualify to receive quality health insurance at a free monthly premium thanks to the American Rescue Plan. 
The recently enacted American Rescue Plan makes health insurance more affordable for millions of Californians. That means big breaks on monthly health insurance premiums, plus cost savings available to more people than ever before. In fact, many Californians will pay $0 a month for their health insurance, and you could be one of them. The goal of the American Rescue Plan is to help people get back on their feet following the COVID-19 pandemic, so these savings may not be around forever. Here's everything you need to know about how the American Rescue Plan is helping Californians save money on health insurance. 
What Is the American Rescue Plan?
Signed into law on March 11, 2021, the American Rescue Plan Act of 2021 is a stimulus package to speed up our country's recovery from the financial and health effects of COVID-19. For Californians, that means $3 billion of federal funds injected into our state economy — and for you and your family, it may mean additional help paying for health insurance.
More financial help is available than ever before, saving households across the state hundreds or even thousands of dollars on monthly premiums. Some California residents can now get brand-name health insurance at a free monthly premium — and 90 percent of all Covered California enrollees receive financial help. Even if you haven't been able to qualify for financial help to pay for health insurance in the past, you may be eligible now.
The only way to access this enhanced and expanded financial help is by enrolling through Covered California, a free service that helps connect Californians with brand-name health insurance as well as financial and enrollment help for those who need it.
How Much Can You Save on Health Insurance?
Thanks to the American Rescue Plan, having health insurance through Covered California can result in huge savings.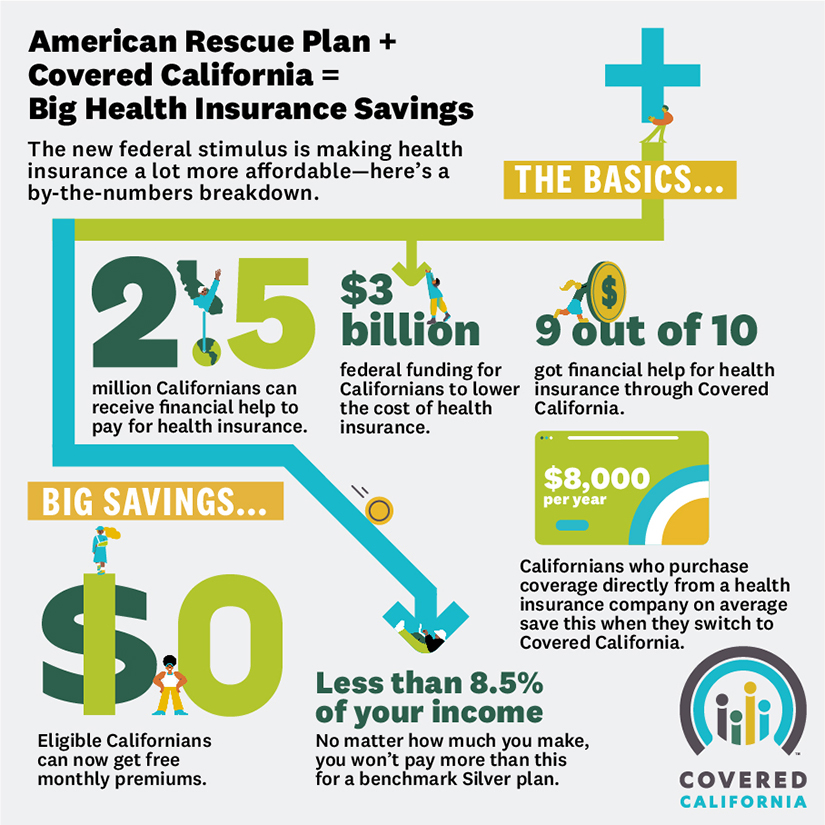 Accessible Version of American Rescue Plan + Covered California = Big Health Insurance Savings Infographic
Consider this: Individuals making less than $25,520 a year are getting quality health insurance plans for just $35 a month on average. Families of four with a total household income less than $52,400 are seeing similar monthly premiums. That's roughly a 95% savings off gross premiums on average, with more than 738,000 Californians getting brand-name plans for free. Those who were previously ineligible for federal financial help are now saving about $800 a month on their monthly premiums, a reduction of more than 70%! 
The American Rescue Plan is helping many people at different income levels. No matter how much you make, the plan prevents you from having to spend more than 8.5 percent of your household income on health insurance premiums for a benchmark Silver plan. Find out how much financial help you might be eligible for and just how affordable health insurance can be at CoveredCA.com.
The American Rescue Plan and Unemployment
Losing your job (and your paycheck) is hard enough, but this often means losing your health insurance also. In 2021 only, the American Rescue Plan provided the maximum amount of financial help for health insurance for people who qualified for — or collected — unemployment for at least one week. While this benefit expired in 2021, you could still take advantage of the expanded financial help available under the American Rescue Plan in 2022. 
Getting Covered
If you do need to secure your own coverage, Covered California is the only place to apply for financial help. You can apply for coverage today if you have a major life change like loss of health coverage, change in your household size, or other qualifying event. For most life events, you have 60 days from the date of that event to enroll. 
People with low incomes of up to 150 percent of the federal poverty line, or those who qualify for Medi-Cal, can apply year-round.
The pandemic has been challenging for everyone. Make life easier this year with more affordable health insurance that can give you and your family peace of mind and put money back in your pocket. Sign up at CoveredCA.com.